Meet Our Pro Team
---
Blue Season Bali employs a full-time team that is solely dedicated to training PADI dive professionals. All our team members are experienced Course Directors, Master Instructors or IDC Staff instructors that have worked in the industry for years and have great experience when it comes to training the best dive professionals.
We are dedicated to your training because we believe that each of our candidates should get 100% of our time and effort to become the best dive professionals in the industry.
Our team can offer you support in English, French, Spanish, Indonesian, Chinese and Japanese. Get in touch today to see how we can help with your diving career!
Helene Reynaud
Platinum PADI Course Director 977643
---
Helene has been diving since she was 14 years old, she has dived extensively around the world but has called Indonesia home for the past 5 years. She is the head of all PADI training here at Blue Season Bali and actively runs the PADI IDC's. She is passionate about training new PADI Instructors as well as ensuring that our Instructor team is always up to date with the latest PADI updates. She loves Manta Rays, Nudibranchs and Ocean Conservation – especially here in Bali.
Ngurah Agus
PADI IDC Staff 317866
---
Agus is originally from Bali, he is one of our most popular instructors and is known for his patience, adherence to standard and keen sense of humour, as well as his bright smile! Agus is a PADI IDC Staff Instructor and is a valuable member of the Blue Season Bali professional development team.
Eugene Beery
PADI Course Director 297098
---
Eugene is from Seattle Washington and he started his dive career in Mexico many years ago. Since then, he has managed a dive centre in Vietnam, worked on a marine conservation project in Mexico as well as training Divemasters and Instructors in Honduras. Eugene is also keen on fixing equipment when he has time to spare and will happily teach you the PADI Sidemount or Gas Blender courses. His favourite marine life include Frogfish and Mantis Shrimp.
Cam Hookey
PADI IDC SI 316251
---
While Cam was studying to be a Marine Biologist in Vancouver, Canada, he decided to start diving to fit in with all the cool people in his program. It was dark, cold, and his drysuit leaked, but his instructor would inspire Cam to pursue a career in the dive industry. He has worked in Fiji, Thailand, the Philippines, Colombia, New Zealand, Australia and Indonesia in diving and marine biology. He is in charge of all our conservation and marine biology programs and can talk about fish for hours!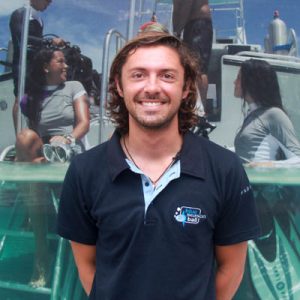 Karoline Hunziker
PADI MSDT 330220
---
Karoline is the General Manager here at Blue Season Bali. She is also a PADI Instructor with many years of diving experience. She looks after the day to day operations here at BSB and ensures that all of our trips run safely and smoothly. She is always on hand to assist you with anything you may need during your time in Bali – and if you are lucky – you may even catch her on a dive trip.
Want to see the whole team?
Have a look at our sister site here.
Alternatively get in touch with us today to set up a skype call and meet the team face to face!