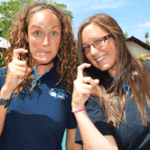 Want to hear more?
Contact me now to get things started! I'll get back to you straight away and will try to answer any questions as thoroughly as possible.
If you're still not quite sure, just click to see what your day-to-day scuba diving internship will be like! We are here to answer any question you may have about our internship courses.
Many thanks for getting in touch with us here at Blue Season Bali regarding our program.
We will be in touch with you within the next twenty four hours with helpful information about our services, prices and all we have to offer. If you don't hear back from us, please email us at gopro@blueseasonbali.com