PADI Courses
---
Our Divemaster internship pricing is based on you showing up as a certified Rescue Diver with current EFR. If you're not, no worries. We can conduct Open Water, Advanced, EFR and Rescue as part of your internship program.
If you need these courses, you should add the following:
---
Don't have time to commit to one of our professional programs, but still want to do a diving internship in Bali? Have a look at our MSD internships - they each include 5 PADI Specialties as well as lots of diving in Bali!
The DSAT Gas Blender course will train you as a qualified gas blender, allowing you to provide gas mixes to appropriately certified consumers. You'll learn the physical properties of oxygen, its associated hazards, handling requirements and what cleaning equipment is necessary. Finally, you will learn the five methods of obtaining the desired enriched air nitrox mix and the various methods used to obtain proper helium mixes.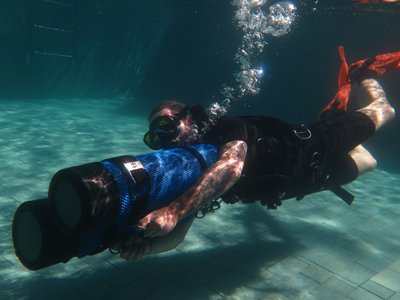 PADI Sidemount
Are you looking for an extra challenge on your Bali Internship? Sign up for this course to learn how to dive Sidemount - we run our sidemount courses with double tanks so get ready to double up!
Get in touch with us today to sign up for your professional PADI Internship today!
We run the full range of PADI Courses every month. You have access to up to 20 PADI specialties at special intern rates – both at the diver and instructor levels. Depending on the internship you choose, you may have specialty courses already included. Here's how it breaks down:
Divemaster two-month – 5 specialties and PADI Master Scuba Diver
Instructor three-month – 5 specialties and PADI Master Scuba Diver
Peak Performance Buoyancy
Coral Reef Conservation
Project AWARE
Fish Identification
Underwater Naturalist
These courses are designed to give you a solid foundation in underwater ecology. We feel it is vitally important that all dive professionals understand the delicate and elaborate interconnected nature of the underwater world.
Divemaster Four-Month – 10 Specialties and PADI Master Scuba Diver
---
All five courses listed above, plus five more:
Digital Underwater Photography
Deep Diver
Enriched Air Nitrox
Emergency Oxygen Provider
Night Diver
Want to add more specialty courses? No worries. We have special discounted intern rates on all our specialty programs. These discounts are up to 30% off of our published rates. We are committed to making comprehensive training as affordable as possible.
If you want to mix and match your specialty courses, it's no problem for us. You can substitute any specialty course for another and simply pay the difference in the intern rate
Want to hear more?
Get in touch with us today and our professional development team will answer all your questions!
You can also check our FAQ for Divemaster or for Instructor internships
What's next? Check out the DSAT Gas Blender Course!