PADI Specialty Instructor Courses in Bali
---
It is so important to have as many skills as possible when you are looking for work as an Instructor. It gives both you and your future employer confidence of your ability as an Instructor. In most parts of the world an instructor without training beyond the OWSI level will find it very hard to find employment.
After becoming a PADI Open Water Scuba Instructor (OWSI) you'll want to teach divers specific types of diving dependant to what your local area offers. To do this you need to be able to teach PADI Specialty diver courses. By doing so you can heighten your students' comfort level and strengthen their underwater skills, ultimately leading to their enjoyment of diving more than ever before.
Specialty Scuba Instructor Courses Bali
---
There is wide variety of PADI Instructor Specialty courses. All these courses introduce you to the standards of the courses and also show you how to effectively market, conduct and organize the courses. Some of the most popular Instructor specialty courses are listed here below:
PADI Enriched Air Nitrox Instructor Course
This is PADI's most popular specialty course. You'll be able to teach divers to plan and make no decompression dives using enriched air nitrox blends containing 22-40 percent oxygen.
PADI Wreck Diver Instructor Course
Exploring a sunken ship is exhilarating, but not without the need for special equipment and techniques. You'll be able to introduce divers to wreck diving in a safe, structured way, demonstrating proper safety techniques and procedures that make for a fun experience.
PADI Drift Diver Instructor
Diving in currents can be exhilarating but also a little bit challenging. You will learn how to teach your students to manage best the currents and to use proper drift diving techniques
PADI Deep Diver Instructor
One of the most popular specialty course! You will teach your student divers how to plan dives up to 40 meters deep and how to plan for safe deep diving.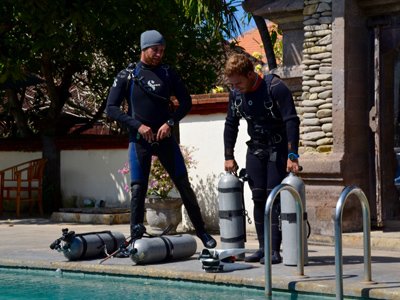 PADI Sidemount Instructor
Why dive with one tank when you can dive with two? Learn how to teach your students how use a different setup and refine your sidemount techniques.
AWARE courses
Interested in spreading the word about conservation for our oceans? You can learn how to teach AWARE Shark Conservation and/or Dive Against Debris specialties to your students. Help your students understand about conservation issues!
Blue Season Bali conducts the PADI specialty courses after the IDC has finished, but we can also organise your Specialty Instructor courses at your convenience. Most of these courses will take one or two days to complete and can be combined with the PADI Master Scuba Diver Trainer Internship .
Ready to start your Specialty Instructor Course?
PADI Speciality Instructor Course Inclusions
---
Your PADI Specialty Instructor Course includes:
What's next? Check out our PADI IDC Staff Instructor Internship options.