13 Mar
How to minimize hair damage from scuba diving
We may feel like mermaids when we're exploring the endless width of the ocean… but our hair feels a little different about this and our love of scuba diving. It's not long and shiny as we imagine a mermaid but rather frizzy and super dry. Everyone with long hair has experienced this: coming back from a dive with your hair tangled into one big mess. Constantly we torture our hair exposing it to the sun, salt water and chlorine. In addition to this our equipment, the snorkel and mask have the tendency to rip off parts of the hair. That's why we've got some tips for you to minimize the hair damage from scuba diving and keep it healthy!
PRE-DIVE
To protect your hair you can put in coconut oil or at least make it wet with fresh water to "build" a wall between your hair and the salt or chlorinated water. After your dive rinse the sea salt and chlorine out with fresh water as soon as possible.
As coconut oil is always a good choice to moisturize your hair but doesn't provide the best UV-protection you can switch it with a marine life friendly hair conditioner that also gives UV-protection.
Not only before your dive but in general you should moisturize your hair once a week with an intense, deep treatment, for example with a hair mask.
WET HAIR
Hair is more vulnerable when it's wet. Be careful when you entangle it by gently brushing it starting with the tips, moving your way up. Also, avoid to put it into a bun or ponytail as this easily breaks your wet, sensitive hair. Moreover, regular haircuts to remove the damaged tips help to keep your hair healthy.
HAIRSTYLES FOR DIVING
These hairstyles not only help to keep your hair healthy but also help you to hold your hair back so it doesn't float in your face and annoys you during your dive.
Ponytail: A Ponytail on either the top of your head or down at your neck, so it doesn't disturb your mask strap. It is not the best solution as ponytails tend do loosen and therefore probably make the mask slip. Furthermore the loose end of the ponytail becomes extremly tangled and knotted.
French braids/Boxer braids: Braid your hair into either one or two braids, so all of your hair is in place and can't get tangled like in a ponytail. You just have to be careful when you comb it out after your dive.
Bandanas: We are a big fan of bandanas or headbands. They keep the short hair out of the face and cover part of our face. It best is combined with braids.
Hoods/hats: The most effective method to cover up your hair completely and protect it is to put on a hood or hat. There are many different styles available. Another plus is that of course it keeps your head warm!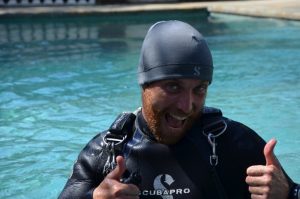 …or just cut your hair short, to avoid this problem!
What is your favorite method to tame your hair underwater and minimize the hair damage from scuba diving? Let us know all about it in the comments!