16 Jan
PADI Sidemount Diving Bali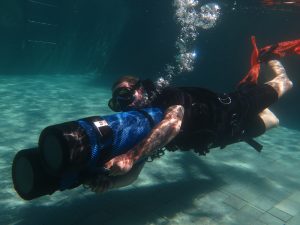 This article is about the benefits of PADI Sidemount diving and why it is becoming a more popular configuration within the diving community.
Firstly for those of you who don't already know, Sidemount refers to a configuration consisting of a harness and BCD bladder secured to the back of the diver allowing for one or two tanks to be attached to the sides utilising clips on the tanks and D-rings incorporated into the harness.
Due to this configuration it allows for an extremely high level of comfort and flexibility, not having a ridged back plate or cylinder on your spine. In addition with the center of inflation being located on the back of the diver excellent trim and body position is easily attainable.
When diving two cylinder Sidemount this also provides an increased level of safety as you have a redundant system, both cylinders being completely separate. Although equipment failures have become extremely rare in diving this allows for flexibility and alternate approaches to troubleshooting any possible issues during a dive.
So the covers some of the practical aspects of Sidemount diving. However we have not yet covered what is referred to as the "Awesome Factor"
Having your cylinders mounted on the side gives you access to the attachments so you can easily detach the cylinders extending them in front of you and decreasing your profile in water. This allows for access to extremely confined spaces in wrecks, caves and reef structures adding an entirely new aspect to dives and a whole new level of exhilaration.
In addition there is no denying that not only do you feel and look it, but you ARE extremely cool. This is only a byproduct of the aforementioned benefits, but an important one nonetheless.
These are only a few of the benefits to diving a Sidemount configuration but the best way to test it out is to try it for yourself! Sidemount is becoming more and more prominent and should be easily found at a dive center near you – get this included in your Divemaster Internship today! Do you have any questions about Sidemount configuration? Pop us an email or comment below and we'll get right back to you!