20 Sep
10 Reasons to Date a Diver
We all know the feeling of attraction. And how it gets so much sweeter when we discover that the object of our affection dives. Instantly, they become somehow even more attractive. Dating a diver means a deeper (pun intended) connection in a relationship. Here's what else it means.
You'll be capable of intimacy everywhere, even underwater.
How great is it to have a dive buddy who understands all your expressions, even when underwater? With one look, your partner would know when you're suggesting that a diver nearby could use some help, or that you'd like for your partner to come see something that's important to you.
You'll always have backup when it comes to prepping or washing gear.
Being responsible for everything — picking up tanks, washing gear, grabbing snacks for the dive boat — gets old when you're doing everything all the time. With a partner, you'll cut the workload in half. Divide and conquer! Leaving more time for the fun stuff.
You'll share a sense of wonder at the small things.
Taking the time to appreciate the small joys of life — be it seeing bioluminescence in the water at night or encountering a turtle in the first few minutes of a dive — adds happiness and serenity to life. And it's hard to share that gratitude with someone who doesn't get it.
Your dive stories won't fall on deaf ears.
Dating a non-diver seems to involve often saying, "Guess you had to be there … ." But recounting a crazy dive story to a diver won't end with the tale falling flat. More likely, that story will be met with similar enthusiasm and follow-up questions.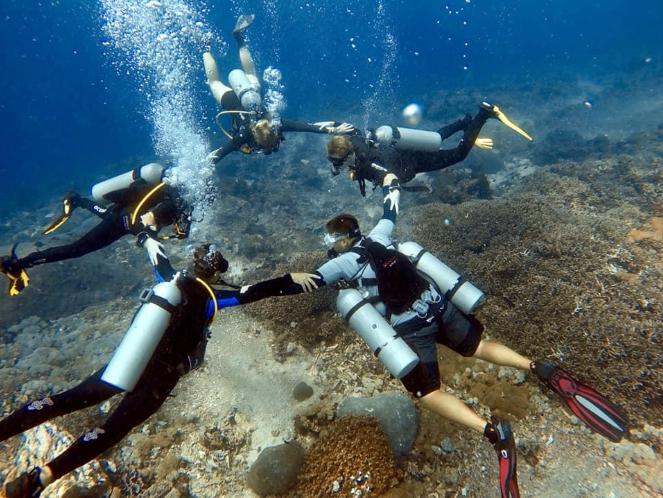 You'll speak the same language.
Safety stop, narced, buoyancy. These are all words we take for granted among our people. When chatting with non-divers, we have to pause to explain these terms and beyond. Dive people just get it. Period.
You won't fight over where to vacation.
Some couples alternate between destinations, i.e. mountains, then the beach. Not only will you two share a similar mindset about where to vacation, you'll also be of the same mind when you have a free day or afternoon in a new location.
You'll make memories together.
Sure, there's nothing wrong with each partner having his or her own hobby, but sharing a passion strengthens any pairing. When you look back on your time together, there's added magic to remembering that amazing sunset in Tahiti on the dive boat, or that shark dive in the Bahamas.
Nobody will complain that your dive "junk" takes up too much room in the closet.
When our partners don't share our hobbies, they resent that our gear takes up too much room in the house. Ugh. Yes, we really do need all six wetsuits and three pairs of fins.
You can enjoy the added bonus of seeing your partner in a wetsuit.
Some people find high heels sexy. For some, it's a white T-shirt and jeans. For divers, it's a wetsuit, no? There's an inherent appeal to seeing someone in neoprene, and even better when they've peeled off the top half between dives 😏. Bonus: Some people even love the smell of neoprene (the kind that hasn't been peed on).